The largest archipelago on Earth, Indonesia is remarkably made up of over 18,000 islands; as such, there are a plethora of incredible sights to see, with many of its beautiful beaches ranking amongst the best in the world.
While Bali and Lombok attract the most attention, it is well worth island hopping around to see as much of Indonesia's breathtaking scenery as possible. Everywhere you go, you'll come across glorious golden sands and glittering turquoise waters teeming with marine life.
Home to ancient temples, rich and fascinating cultures and cuisines, and a vast array of different landscapes – each more beautiful than the last, Indonesia is a treat to visit. Its awe-inspiring beaches are a gateway to discovering all the other marvels that it has to offer.
10. Ngurtafur Beach, Warbal Island, Maluku
Snaking its way for two kilometers into the Indian Ocean from Warbal Island, Ngurtafur Beach looks more like a sandbank than a beach; glorious turquoise waters border its narrow strip of sand on both sides.
Breathtaking to behold, its remote location means that you'll often find yourself utterly alone amidst the stunning scenery – there aren't many other places like it in the world. The island is only accessible by chartered boat, and you won't find any hotels or restaurants on the horizon.
Island hopping is a wonderful way to explore the surrounding area, and most people use Debut Port as a base from which to visit all the idyllic beaches, secluded islets, and breathtaking natural wonders that this amazing part of the world provides.
With a very chilled out feel, the island of Gili Meno is ideal for people looking for a peaceful, relaxing holiday and is particularly popular amongst honeymooners.
Lying just off the northwest coast of Lombok, Gili Meno has some of the best beaches in Indonesia for visitors to enjoy. There are lots of great seafood restaurants and hotels that cater to all budgets scattered about here and there.
The fact that there are no cars on the island highlights its relaxed pace of life; apart from scuba diving or snorkeling in its crystal-clear waters, there is not much else to do other than lounging on its glorious and secluded beaches.
Best of all, you're only a few minutes' boat ride from the more lively islands of Gili Air and Gili Trawangan, both boasting stunning beaches and a huge array of accommodation, restaurants, and nightlife.
8. Derawan Island Beaches, East Kalimantan
© Sonyasgar / Dreamstime
Ringed by beautiful beaches, Derawan Island is a dream to visit. The island is part of an archipelago of 31 small islands of which only 4 are accessible. Its coastal coral reefs teeming with marine life make it a mecca for scuba divers and snorkelers.
The small island is home to a number of eco-friendly lodges and resorts; many of them are built on wooden platforms that stretch out into the ocean. As such, they look stunning lying atop the sparkling blue waters with colorful fish flitting beneath them.
While most people come for the breathtaking dive sights and wealth of marine life, including dolphins, coconut crabs, and sea turtles, the beaches themselves are as idyllic as they come.
7. Lengkuas Beach, Belitung, Sumatra
© Rigo Hidayat / Dreamstime
Lying just a short boat trip away from the island of Belitung, Lengkuas Beach is jaw-droppingly beautiful and is mainly known for the gleaming white lighthouse that towers over it.
Indeed, the tiny uninhabited paradise island of Lengkuas is best viewed from the top of the lighthouse; the 360-degree views on offer are incredible.
The warm waters lapping at the white sands of the beach are home to abundant marine life, so make for some brilliant scuba diving and snorkeling. When you finally manage to tear yourself away from the magnificent sights both above and below water, you can always arrange to island hop your way back to Belitung.
6. Senggigi Beach, Lombok
With its stunning setting on the west coast of Lombok, Senggigi Beach is the island's premium tourist destination, and many people use it as a springboard to discover the rest of what the surrounding area has to offer.
While the beach itself is perhaps not the best in the country, the scenery around it is undoubtedly alluring, as palm trees cluster along it and fishing boats lie upon the beach.
As it has lots of restaurants, bars, and hotels for visitors to choose from, Senggigi Beach is a popular place to visit. If you want to go scuba diving or snorkeling, the nearby reefs are a delight to explore.
The rugged and wild island of Nusa Penida is one of Indonesia's best-kept secrets, and Atuh Beach is one of the nation's most beautiful beaches.
Rugged cliffs line its golden sands, and the views are astounding, with rugged islands and islets covered in vegetation rising dramatically amidst the reflective waters of the ocean.
Providing an off the beaten path experience, the island feels a million miles away from Bali, despite lying right next to it – in comparison, it is very pristine and untouched.
From Atuh Beach, there are some picturesque little villages and coves for visitors to explore, and there are many great hikes running through the island's beautiful scenery. In recent years, more hotels and restaurants have sprung up, although these are still few and far between.
If you're looking for a secluded and peaceful getaway amidst stunning scenery and incredible natural sights, then look no further than the dazzling white sands and crystal-clear waters of Tanjung Gelam.
Located on the largest island of the Karimunjawa Archipelago, which is a protected marine park, the beach lies almost 100 kilometers north of Java and is all the more beautiful for its remote setting and pristine condition.
The waters surrounding the islands are teeming with life, and scuba diving or snorkeling amidst its colorful coral reefs and shoals of fish is an unforgettable experience.
A chilled out place, Tanjung Gelam is well worth the effort it takes to get there. As the other name it goes by – Sunset Beach – suggests, the sunsets viewed from this beach are nothing short of spectacular
3. Kuta Beach, Bali
The most popular beach in Bali with tourists, Kuta Beach is a lively yet laidback place. It is chock-full of restaurants, spas, and hotels for visitors to choose from, as well as loads of bars and nightclubs at which you can dance the night away.
As with most beaches in Indonesia, Kuta's bright white sands look stunning and are perfect for lounging on. It is also one of the most popular places to go surfing in Bali. In the evening, most people enjoy a drink at one of the beachside bars or cafes and watch the sun dip down into the shimmering Indian Ocean.
Due to its massive popularity, the beach has become crowded and overdeveloped in recent years, although this does mean you have all the amenities and activities you could ever dream of on hand. It is with good reason, however, that Kuta Beach is so enduringly popular; the fun and festive atmosphere is just as enticing as the beach itself.
2. Pink Beach, Komodo
Just one of seven such beaches in the world, Pink Beach really does live up to its name; its pink sands are unlike anything you've ever seen before. While it is a must-see when in the area, it is not the only thing you need to keep an eye out for.
As it is located in Komodo National Park, a number of Komodo dragons can be found just a short distance away; it is an awe-inspiring experience seeing these gigantic creatures in their natural habitat.
In addition to the beautiful beach and majestic Komodo dragons, the scenery in the vast marine national park is mesmerizing. There are plenty of gorgeous views to be had from Pink Beach or one of the nearby hills.
The waters surrounding the island are just as impressive for their abundant marine life and colorful coral reefs, so it also a great place to go snorkeling. As you can imagine, Pink Beach offers quite the package of amazing and unique sights.
1. Bingin Beach, Bali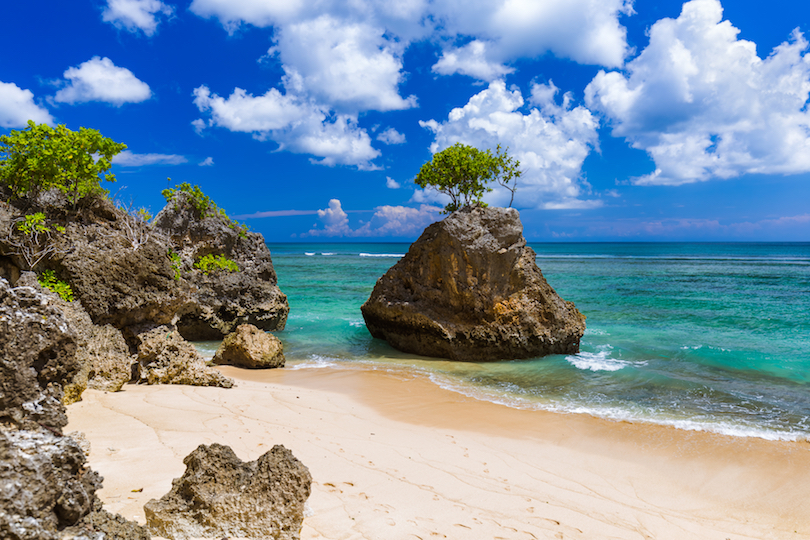 © Nikolai Sorokin / Dreamstime
Tucked away right in the south of Bali, Bingin Beach is idyllic. When the sun sets over its golden sands and the cluster of buildings that make up the picturesque Pecatu village, you really will think you're in paradise.
Hugging the tree-covered hills and cliffs surrounding this secluded beach are some fantastic little restaurants and hotels, while its beachside bars give it a very laidback feel.
Renowned for fantastic surfing, Bingin Beach is conveniently located not too far away from some of Bali's main attractions such as the beautiful Uluwatu Temple and the delightful Dreamland Beach.
One of the most beautiful beaches in Bali – and Indonesia – Bingin Beach will set your heart racing as soon as you set foot on its inviting sands and gaze at the Indian Ocean glittering before you.